Updated "Select All" and Bulk Action Functions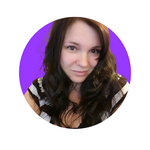 Updated by Lyndsay
How to Select All
To select all Learners on the current page, you will click the box to the left of the word "Name" at the top of your Learners tab to select all Learners on the current page.
A Purple Action bar will appear. You will be able to see how many Learners are selected. The maximum number of Learners per page is 50, but you may select all Learners on all pages by clicking "Select all Learners." In this example, there are 800 Learners in the dashboard, so it says "Select all 800 Learners."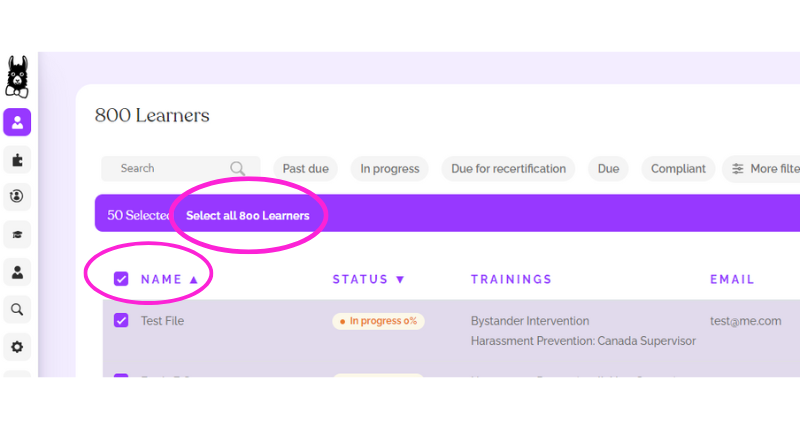 Once you have selected all, you will be able to confirm the number of Learners selected (In this case 800), and you will see many options in the purple action bar that allow you to apply actions in bulk to all the Learners in your dashboard.

Using Bulk Actions
🦙Llama Tip: When selecting Learners individually, you may only select Learners on one page of the dashboard. Moving to the next page will cancel boxes checked on the previous page.
When you have selected one or more Learners, you may use any of the bulk actions in the purple action bar to apply actions to all selected Learners.
You can see here the options to Notify, Assign training, Edit Renewal dates, and "More:"

Under "More" you can see these options: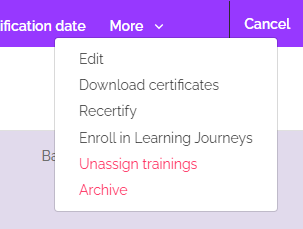 Edit - Bulk edit User Details (Role, Location, Region, Employment Type, Manager, Due Date, Department)
Download Certificates - This will allow you to send yourself a link by email to download the certificates. This link may take a long time to arrive depending on the number of Learners and server activity.
Recertify (PRO and Enterprise only) - this can be used to assign and send out recertification training only to Learners who are due for recertification.
Enroll in Learning Journeys (Unlimited Only) - Enroll selected Learners in a Learning Journey
Unassign trainings - Unassign all courses that have been completed to 10% or less. If multiple courses are assigned and completed to 10% or less they will all be unassigned.
Archive - Archive the Learners. There is no bulk unarchive, so use with caution