Integrating EasyLlama with ADP®
Integrating EasyLlama with ADP®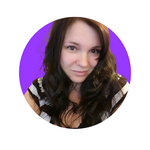 Updated by Lyndsay
The EasyLlama Connector for ADP Workforce Now® will automatically sync data to your EasyLlama dashboard, to save you the hassle of manual entry. While we can easily set up automated training assignments for future Learners, we highly recommend not assigning on your first sync of your current employees. This will give us the opportunity to make sure everything syncs over the way you want it to, and possibly eliminate some Learners who may not need to take courses. 
Use the following steps to set up the integration:
Visit our listing on the ADP Marketplace - click here.

Click "Buy Now" and follow the instructions.
When prompted to add your company ID, in your EasyLlama dashboard go to Settings > Integrations > ADP > Connect. You will see a unique ID, which you can copy from there.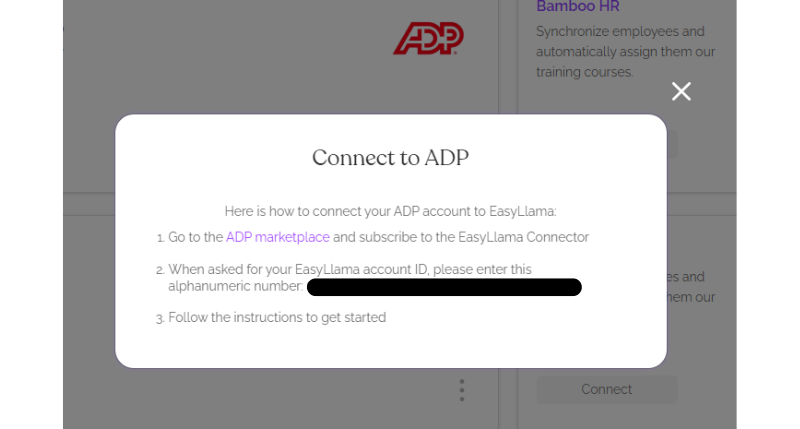 You will be prompted to select a plan based on number of employees in your organization - ADP will bill you for this integration; you will not see additional charges in your EasyLlama account.
After you complete your purchase and your subscription is active, click on "My apps" from the ADP Marketplace account dropdown menu.
Click on the "EasyLlama Connector for ADP Workforce Now®" tile.
Two prompts will appear to accept terms and get your consent to share data between ADP and EasyLlama- click "Accept" for these.
That's it! Your ADP account is now connected to EasyLlama. Learners will sync nightly. A guide for Integrations settings can be found by clicking here!
Troubleshooting
My employees are not importing to EasyLlama
Make sure that the consent was properly added on ADP. Click here to check the allowed applications. The screen should show this: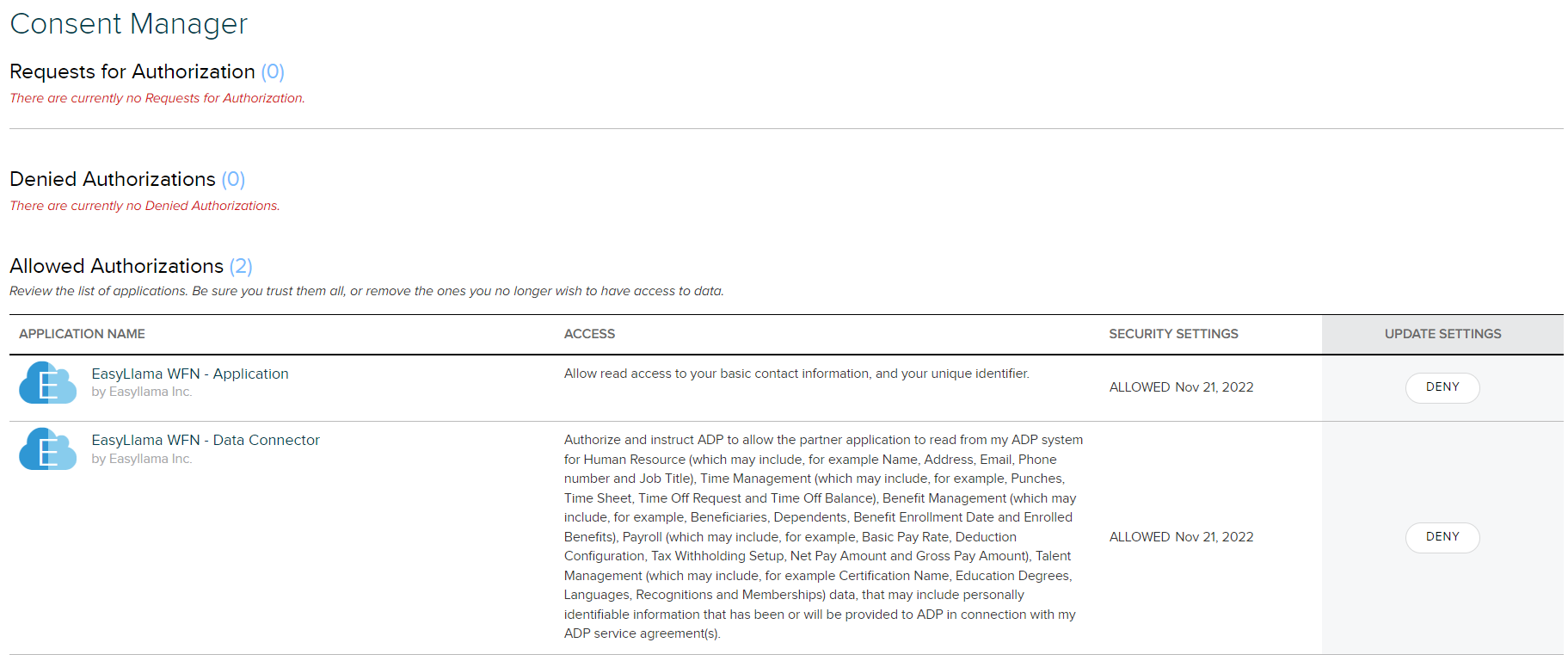 Fields that Sync
ADP Workforce Now

EasyLlama

Given name

First name

Family name

Last name

Job title

Title

Business email

or personal email if business email is not available

Email

Actual start date

Start date

Mobile phone (business)

Phone

Organizational unit

Department

Worker type code

Employment type

Management position indicator

Role

Reports to

Manager

Worker ID

Employee ID

Work location

Location