EasyLlama's LMS - Upload your own courses!
EasyLlama's LMS - Upload your own courses!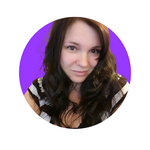 Updated by Lyndsay
With EasyLlama's LMS package, you can now upload your own custom training content to your EasyLlama dashboard!
LMS Overview and Features
You'll be able to assign your courses and assign and track them from your dashboard alongside your EasyLlama courses. They can be assigned manually or automatically through your HRIS integration, and even add them to Custom Learning Journeys.
You'll be able to set custom recertification frequencies, track training progress, download certificates, and send notifications the same way you do with EasyLlama's courses.
LMS subscribers will also have access to the valuable insights tab where you'll see a high-level visual overview of your Learners' training data. It's packed with information and features to help you achieve your training goals. A full overview of the Insights tab can be found here: EasyLlama LMS Package: Insights Feature Overview
Want to learn more about the LMS package and pricing? Reach out to Accounts@EasyLlama.com!
How to Add Courses
Once you have subscribed to the LMS package, you'll be able to upload your custom content right in your dashboard's Training Library.
File formats accepted are:
SCORM 1.1, SCORM 1.2, SCORM 2004 (2nd, 3rd, & 4th editions)
AICC (versions 2.2 and 3.5/4.0 of HACP)
Experience API ("xAPI", formerly "Tin Can API")
cmi5
LTI (1.1, 1.3)
You'll see a button to upload training at the top right of your Training Library tab. Click it to get started!

Then, you'll see a form where you can add the course title, duration, and description. The Description field is short here, so you may want to keep it simple, but once you've added the course you can edit it in an expandable field later (In Step 4)
You can drag and drop or click to select your file and click Upload!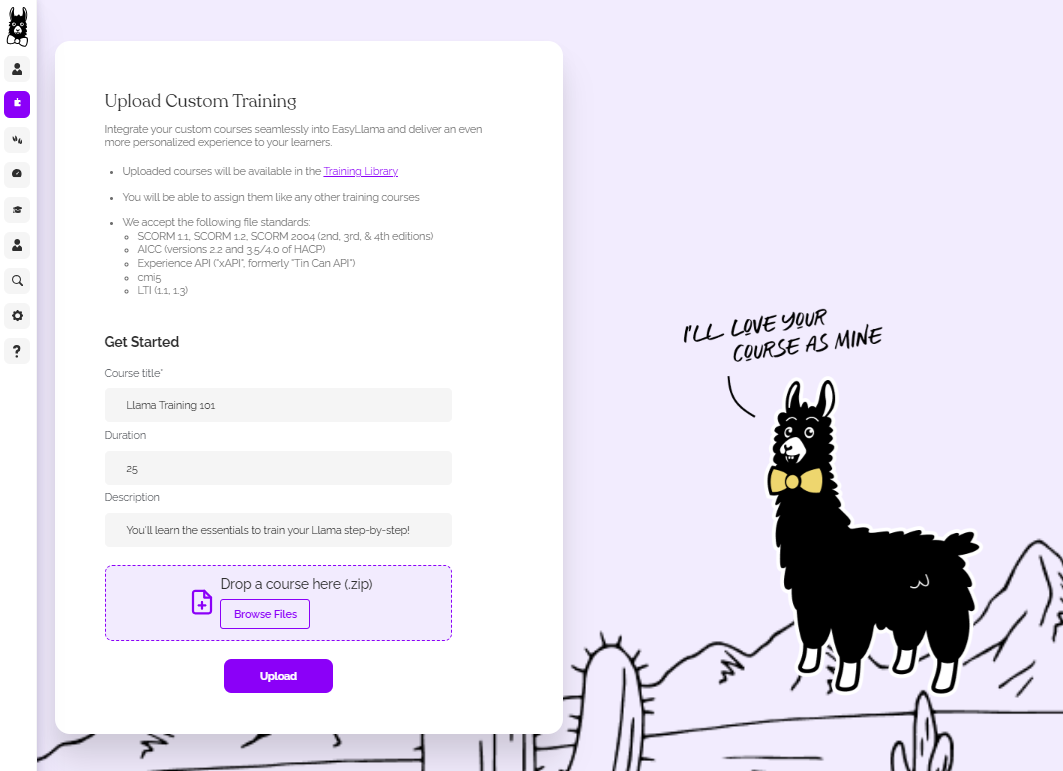 On the next screen wait while the course uploads. You'll receive confirmation when it's complete. Then click "See uploaded training"

You'll be taken to your course's page in the training library. From here you can click "Edit" to make any changes to the title and duration. You can also add a custom thumbnail, and here's where you can expand the description field and add a more robust description.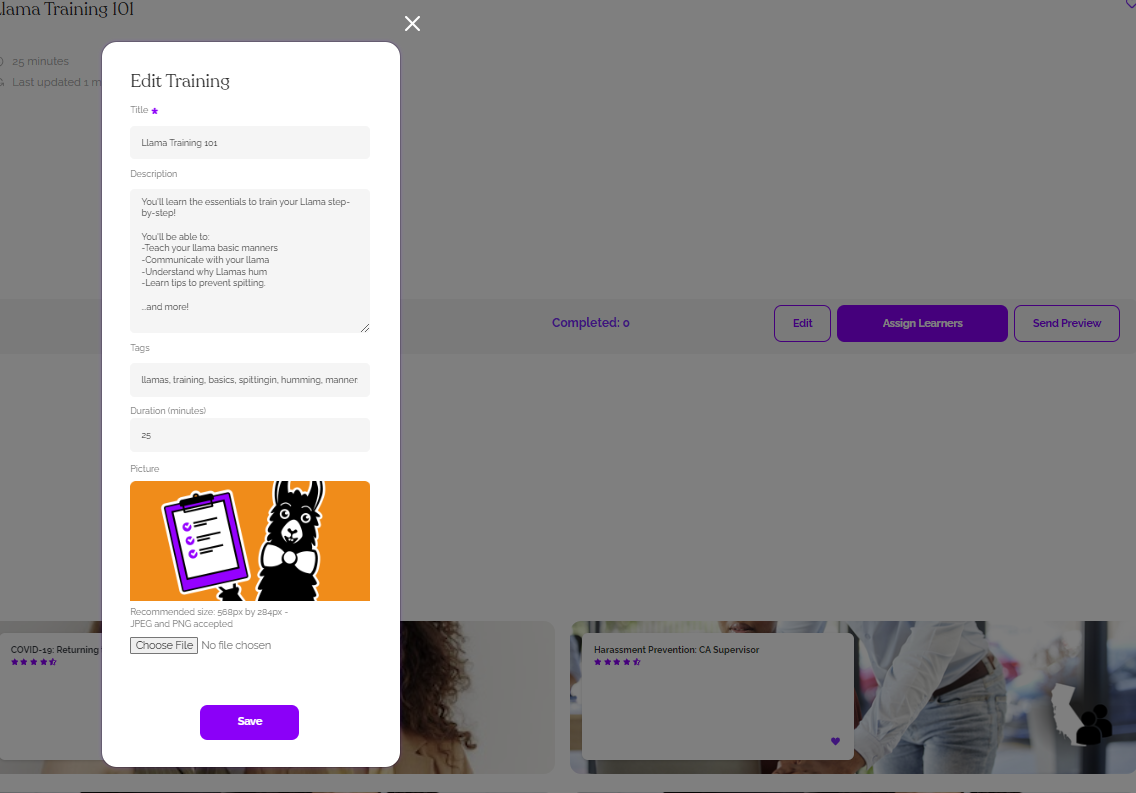 Once you have it saved the way you'd like it, you can start assigning it to your Learners and tracking completion like any other course! You can also change the recertification frequency under Settings > Recertification, if you'd like. When assigning, you can search by the title or use the filter for "My courses"